HD PVR 2 Gaming Edition
Registra il tuo PS4®, Xbox® One, Xbox 360, PC, PS3 o WiiU game play in formato HD
Carica e fai streaming Live dei tuoi Gameplay direttamente su YouTube con un click!
Include passaggio video in real-time, per giocare e registrare contemporaneamente
Nuova Funzionalità esclusiva FaceCam
Include tutti i cavi necessari al collegamento della tua PlayStation o Xbox
Registra il tuo video game play in HD sul tuo Notebook o PC desktop
HD PVR 2 Gaming Edition registra il video in Alta definizione direttamente dalla Sony® PlayStation®4, PS3 o Microsoft® Xbox® One o Xbox 360 e WiiU al tuo Notebook o PC desktop Windows, nel formato ad alta definizione H.264. Crea le registrazioni video delle tue migliori giocate in HD. Carica le tue giocate più belle direttamente su YouTube e condividile con tutti i giocatori online. Oppure crea i tuoi filmati delle tue partite in alta definizione e condividile con i tuoi amici o con i membri del tuo Clan o allenaza per discutere di tattiche e soluzioni!
Potete inoltre riprodurre le registrazioni del tuo game play direttamente sul tuo PC o direttamente sulla vostra PS3 o Xbox 360 tramite la tua rete domestica.
Eslusiva modalità Facecam e streaming live su Twitch e Youtube!
Ora con ingresso e uscita HDMI e Video Component in più il passaggio video HDMI senza alcun ritardo!
HD PVR 2 ora dispone di ingressi ed uscite HDMI per rendere più semplice il collegamento alla vostra Xbox 360 ed al vostro TV HD. Per il collegamentoc on la PS3, HD PVR 2 dispone dei cavi video component per PS3 e viene utilizzato il passaggio video in real time HDMI per il collegamento al vostro TV HD!
Una incredibile qualità audio e video
HD PVR 2 Gaming Edition registra utilizzando l'incredibile compressione H.264 in HD in risoluzione fino a 1080p30. E con il nostro ingresso HDMI, godrete della qualità audio e video a 5 canali direttamente dalla vostra console.
Il formato di registrazione H264 utilizzato dal HD PVR 2 è il formato utilizzato dai dischi Blu-ray e vanno oltre la qualità Audio e Video che garantiscono le compressione standards. Il formato H.264 utilizza  1/3 dello spazio dul disco che utilizzerebbe il formato popolare MPEG-2.
Guarda le registrazione delle tue migliori giocate sul monitor del tuo PC o TV HD.
Una volta che la registrazione che volevate creare è memorizzata nell'hard disk del vostro PC, potete riprodurla direttamente sul vostro computer. Potete inoltre trasferire le vostre registrazioni alla vostra PlayStation 3/4, Xbox 360/ONE e WiiU, o qualsiasi altra periferica media player ad alta definizione, tramite la vostra rete domestica.  
Gioca durante la registrazione grazie al passaggio senza ritardi HDMI!
HD PVR 2 Gaming Edition dispone di un sistema di passaggio video in real-time, con il quale potete guardre il vostro game play sul vostro TV HD mentre state registrando le vostre partite sull'hard disk del vostro PC. Basta semplicemente collegare il vostro HD PVR 2 tra la vostra console giochi e il vostro Televisore HD (cavi di ingresso ed uscita HDMI e Video Component inclusi).
Carica i video delle tue migliori giocate su YouTube e condividile con i tuoi amici!
HD PVR 2 Gaming Edition vi permette con un semplice click di effettuare l'upload direttamente sul vostro account di YouTube. Create le registrazioni delle vostre partite in HD e caricate i video delle vostre migliori prestazioni  su YouTube. Le registrazioni create con HD PVR 2 Gaming Edition utilizzano il formato HD utilizzando la compressione H.264, che è perfetta per YouTube.
Diagramma collegamenti HD PVR 2
HD PVR 2 Gaming Edition dispone del passaggio video senza ritardi per le registrazioni. Collegare semplicemente HD PVR 2 tra la vostra console giochi ed il vostro TV HD. HD PVR 2 Gaming Edition include tutti i cavi necessari!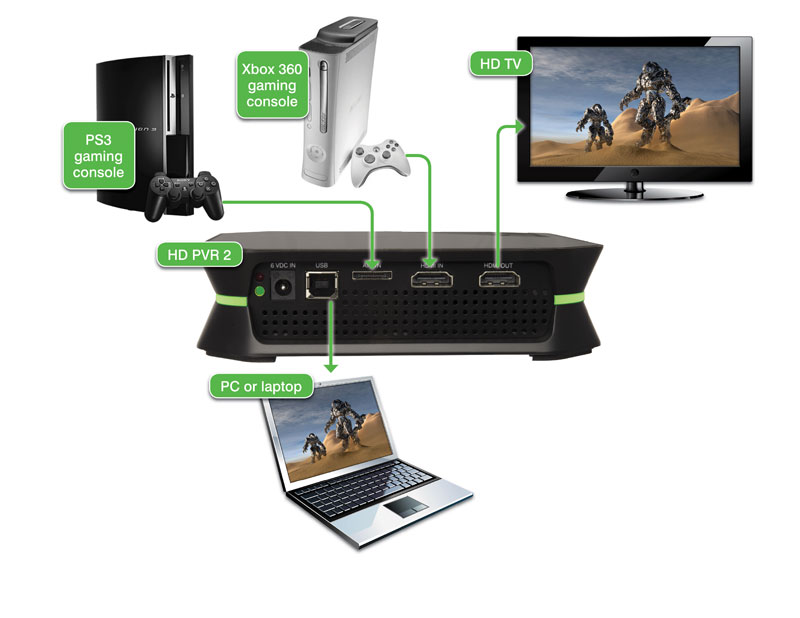 Modelli
model 01486: HD PVR Gaming Edition,con manuale in Italiano
model 01488: HD PVR Gaming Edition, con manuale Inglese e Francese
Specifiche Tecniche
Hardware encoder


H.264 AVCHD high definition video encoder, con registrazione a risoluzione fino a 1080p30
Recording datarate: da 1 a 13.5 Mbits/sec
Formato Registrazioneg :


AVCHD (.TS e .M2TS) plus .MP4

Video down conversion: da 1080p a 720p

Video passaggio HDMI :


Ingresso HDMI a uscita HDMI - fino a 1080p
Ingresso Video Component a uscita HDMI - fino a 1080i

Connettori Ingressi/Uscite


Ingresso HDMI , da sorgenti HDMI con HDCP come Xbox 360
Ingresso Video Component, con audio stereo
Ingresso S-Video e video composito, con audio stereo
Uscita HDMI

Dimensione: 6 in larghezzax 6 in profondità x 1.5 in altezza
Alimentazione: 6V a 1.6 amps
Peso: .75lb / .34 kg / 12 oz
Applicazioni software incluse
Hauppauge Capture, con queste caratteristiche

Registra, modifica e carica i tuoi gameplay fatti con Xbox One / 360, PlayStation 3/4, WiiU e PC game play in HD
Nuove caratteristiche: registra i tuoi video con Facecam (HD PVR 2 e HD PVR Rocket) e registra in vari formati anche MP4
Includi la registrazione del commentary registra e fai streaming, con audio multi-track audio (solo HD PVR 2)
Editor semplice e veloce.
Esclusiva modalità FaceCam
Regista i tuoi video gameplay direttamente su YouTube
StreamEez integrato(HD PVR 2 e HD PVR Rocket) per Twitch, YouTube e Ustream streaming. Per lo streaming su YouTube è necessario avere abilitato Evente live su YouTube.
Requisiti di sistema
Notebook o PC desktop con processore 3.0 GHz single core o 2.0 GHz multi-core
Microsoft® Windows® 7 (32 o 64-bit), Windows Vista o Windows XP Service Pack 3
TV con ingresso HDMI
512 MB RAM (1 GB raccomandati)
Graphics card con memoria di 256 MB
Sound card
220 MB di spazio libero su hard disk
Lettore CD-ROM (per installazione software)
Incluso nella confezione
HD PVR 2 Gaming Edition high definition H.264 personal video recorder, USB 2.0
Alimentatore 6V 1.6 amp
Cavo USB - 9 ft.
Cavo gaming video per PlayStation 3
CD-ROM d'installazione
Guida d'installazione rapida
Note: HD PVR 2 non registra da sorgenti video HDMI con HDCP copy protection. Se registrate il game play dalla PS3, utilizzare il cavo video component incluso apposito per la PS3.
Applicazioni di terze parit per HD PVR 2
-
New for MAC Users! *BETA*
A new application is now available for the HD PVR 2 from the folks at www.hdpvrcapture.com Check it out the beta version (a final release will be coming in a few weeks).
- Our own WinTV v7 Application can be used with the HD PVR 2 Hardware!
- Capture4ME is compatible with HD PVR 2. It is an easy-to-use application that focuses on the core goal of capturing video. The Capture4ME app has the ability to trim the beginning or end of a recording, and also an 'Upload to YouTube' function for those that want to share their videos online.